Hot Water System Repairs Campbelltown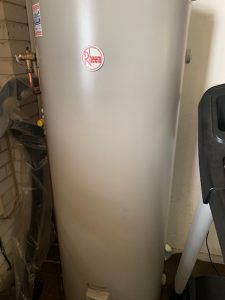 Hot water systems are an essential part of any household or commercial property. They provide hot water for showers, baths, and sinks, and without them, it would be difficult to maintain a comfortable living or working environment. However, like any other system or appliance, hot water systems can experience problems and require repairs or replacements.
At our plumbing service, we offer a comprehensive range of hot water system repairs and services throughout the Campbelltown and Camden area. We have the knowledge and experience to repair and service all types of hot water systems, from gas to electric and from under bench to external 400L outside models. Our team of qualified plumbers is dedicated to delivering high-quality workmanship and exceptional customer service, ensuring that your hot water system is functioning at optimal efficiency.
If you notice a problem with your hot water system, such as inconsistent water temperature, strange noises, or leaking water, it's important to act fast and seek professional help. Ignoring the problem can lead to further damage and potentially even complete system failure. Our team can diagnose the problem and provide a range of solutions, from minor repairs to complete system replacements.
We understand that hot water system problems can be frustrating and inconvenient, which is why we offer fast and reliable service to ensure your hot water is restored as quickly as possible. Our team is available 24/7 for emergency repairs, ensuring that you never have to go without hot water for long.
Regular maintenance is essential to keep your hot water system in good condition and prevent problems from arising. We recommend scheduling regular maintenance checks with our team to ensure your hot water system is functioning efficiently and effectively. This can help to extend the lifespan of your system and prevent costly repairs or replacements down the track.
If you need hot water system repairs or services in the Campbelltown or Camden area, our team is here to help. We offer competitive pricing, fast and reliable service, and high-quality workmanship that you can rely on. Contact us today to schedule a service or repair appointment and enjoy hot water that works as it should.
Our 5 most common hot water system problems
Most of us take hot water in our home for granted. We don't realise how important hot water is in a household until its gone stone cold. But fortunately, there are often tell tail signs of a failing hot water system and early hot water repairs may prolong the life of your hot water system.
Hot water system is not working?
1. My hot water system is noisy
Not as strange as it sounds as often the noise could be the sediment that has collected near the heating element. A flush can often fix a hot water system problem like this but its important to note that the heating element may also be on its way out, particularly if the temperature is inconsistent.
2. My hot water smells
Ahh yes, the rotten egg wonder strikes! Don't worry it is quite common and normally due bacteria infestation. The best thing to do here is call Bow Bowing Plumbing for a full tank flush and clean.
3. My hot water tank is leaking
Ok, so this is not normally good news. In most cases we are required to replace the hot water system as in most cases it is not possible to fix. In the best case scenario, it could just be a valve in which case our plumbers can replace the valve for you.
4. I have no hot water pressure when I turn the tap on
Have you noticed your hot water pressure getting gradually lower? This is very common hot water problem and often a simple repair for a plumber. The cause of low hot water pressure is generally going to be a blocked valve or a pressure regulator however in some cases it could be a concealed leak and therefore important you get a plumber to diagnose and repair the hot water ASAP.
5. Hot water system is slow to heat
It can be incredibly frustrating when your ready to jump in the shower and the water is still running cold. If you notice that it keeps getting longer and longer for the hot water to flow it may be time to say goodbye to your water system. A hot water repair in these situations are unlikely and will likely require a full hot water system replacement.
To fix or repair your hot water system we highly recommend you contact Bow Bowing Plumbing. If we can repair your hot water system we will alternatively we can arrange a replacement hot water unit for your home or business.